After going back and forth and back and forth...i finally bought the chayote squash at Giant tonight.
I wish i'd have done so 3 years ago!
Theres no "aquired taste" or "wierd texture"...and it's truly almost identical to a potato, IMO.
Heres what i came up with...as well as the pictures of the process:
Preheat Oven to 400f
Ingredients:
1 chayote squash, prepared (see instructions below)
1TB butter
1 oz cream cheese
1 oz heavy cream
Small amount of cheddar cheese, shredded
In a small mixing bowl combine butter and cream cheese. Soften in the microwave for about 30 seconds. Add heavy cream. Mix until thick and creamy.
Add squash and beat for another minute or so until combined. Note that the squash will still be in chunks and will not "mash" all the way.
Pour mixture into a small, greased serving dish.
Top with shredded cheddar and bake for 20-25 minutes, until thick.
Let cool, season with salt and pepper and enjoy!
Makes about 2 servings, 1 cup each.
To prepare chayote:
Cut lengthwise in half, scoop out the "seed" in the middle.
Submerge into cold water in a small pot.
Bring to a boil, reduce heat to a simmer and simmer for 10 minutes.
Remove from heat and rinse with cold water.
Use a paring knife to remove the skin (like peeling a potato) and cut into cubes.
Return to pot and bring to boil again, boiling this time for about 10-15 minutes, until tender when pressed with fork.
Halved squash, boiling with skin on.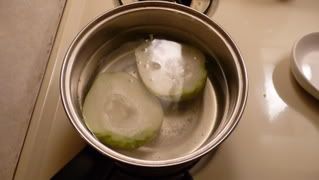 After being peeled, before being cubed.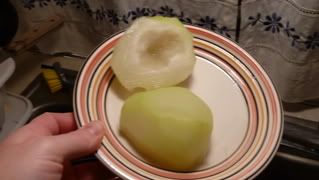 Chayote in bowl, cubed, with other ingredients.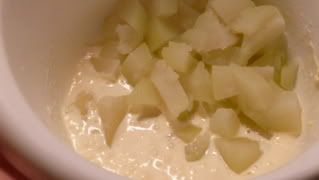 Finished Product!