I was able to get out and "exercise" on Tuesday. Good to get out mid week and take some PTO. Met 2 friends out on the ice. On of the guys, a 20 year old kid, is a super athlete - very stoked to watch him kite and get some tips.
I need to get in better shape, maybe some actual training might be required
Below is a little movie I made at the end of the day when everyone had decided to pack up and miss the beautiful sunset. Cold hands making clips with iphone but fun!
Movie Link Below...
http://downhaul.com/kites/171212Was...asCloud-web.mp4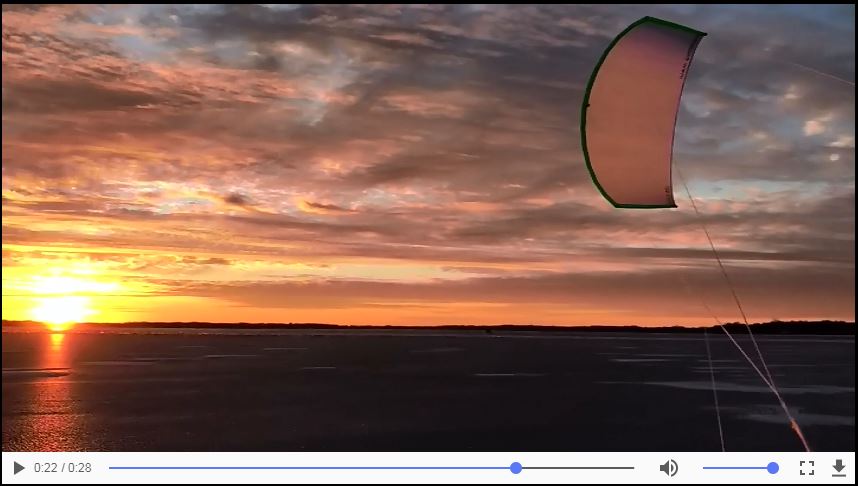 My carb experimentation is done for the month. The most shocking thing for me and what I don't understand yet is that my measured acetone in breath via Ketonix meter was AT FASTING LEVELS. My guess is that I was still producing ketones but they were not being used as fuel much with all the sugar abounding in my tissues.
And another interesting note, I fasted for 24 hrs and the acetone measured zero. I measured twice. Now I expect with a few more days of fasting that the levels will return to "normal" for me - 50-60's and daily net carbs ~25 or so after fast. We'll see... I think I might bring this up in the war zone
Good evidence that supports the notion that you can still gain weight while showing signs of ketosis. It would have been nice to have a blood meter like Rob (from this site) has has recently picked up to see what the blood was saying rather than just the breath.
PS, I did manage one day to consume over 1kg (1000g) net carbs. That was not much fun. There was also lots of fat conusmed at the same time. I didn't measure but I estimating 10,000 calories! Don't try this at home or anywhere else is my recommendation - that is if you care about your weight and perhaps health.
KX=Ketonix, NC=Net Carb, LBS=English Pounds, Act=(Type-Intensity[1-10])
Date - Kx - Nc - Lbs - Act
1201 - 56 - 25 - 208 - Low
1202 - 67 - 45 - 207 - KiteSkateSkate-7
1203 - XX - 24 - XXX - KiteSkate-6
1204 - 63 - 60 - 210 - Low
1205 - 51 - 628 - 210 - Low
1206 - 71 - 885 - 212 - Low
1207 - 72 - 710 - 221 - Low
1208 - 75 - 15 - 224 - Low
1209 - 39 - 740 - 222 - KiteSkate-6
1210 - XX - 684 - XXX - KiteSkateSkate-7
1211 - 74 - 1010 - 226 - Low
1212 - 75 - 607 - 228 - KiteSkate-7
1213 - 75 - 00 - 231 - Low
1214 - 00 - 00 - 221 -