Quote:
Originally Posted by MickiSue
My scale is digital. And weighs in .2 lbs. But, unless there's a swing up or down by .6 or more, it jumps back to the previous reading.

Now that I know that, though, I can watch it. If it sits at a lower weight before settling back at the higher, then I know it's moving.
Well I'll be danged! It's possible that's why some folks on the daily weigh-in threads I participate in have the same weight day after day after day. I think to myself how is that even possible!? I am very impressed that they can do this! My body has a wild variety of opinions of what it wants to weigh in the morning that I've decided to kind of not take to seriously it's only voice, the scale
My scale is one that I bought because at one point I was over 350 lbs. It has a 600lbs capacity can output in lbs and kg - it's also farily expensive. I've got it set to kg and still it's completely by CHANCE that I weigh the same from one day to the next. here's an example:
http://downhaul.com/lowcarb/daily.txt
So for the original poster, if you are REALLY concerned about the number on the scale or need very fine resolution and accuracy, I believe you should spend some money on a good scale, if you don't attach to the number so much, and this is a good thing in my opinion, tune up the one you have or find a replacement.
Here's a test; weight of three iron plates, weight of my body, weight of both:
Iron Weight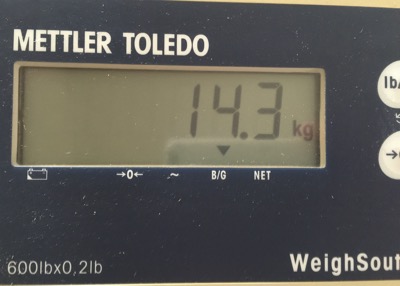 Man Weight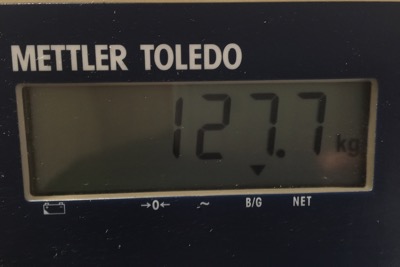 "I... AAAMMM...... IRONMAN......!!!!"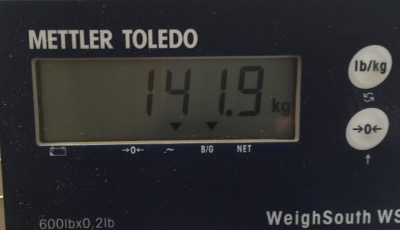 IRONMAN was flashing 142.0 but I couldn't hold steady with 30lbs of plates in my left hand. you'll see the little "~" tilde on the display with a triagle over it. That indicates the weight is till fluxing around, not steady heh