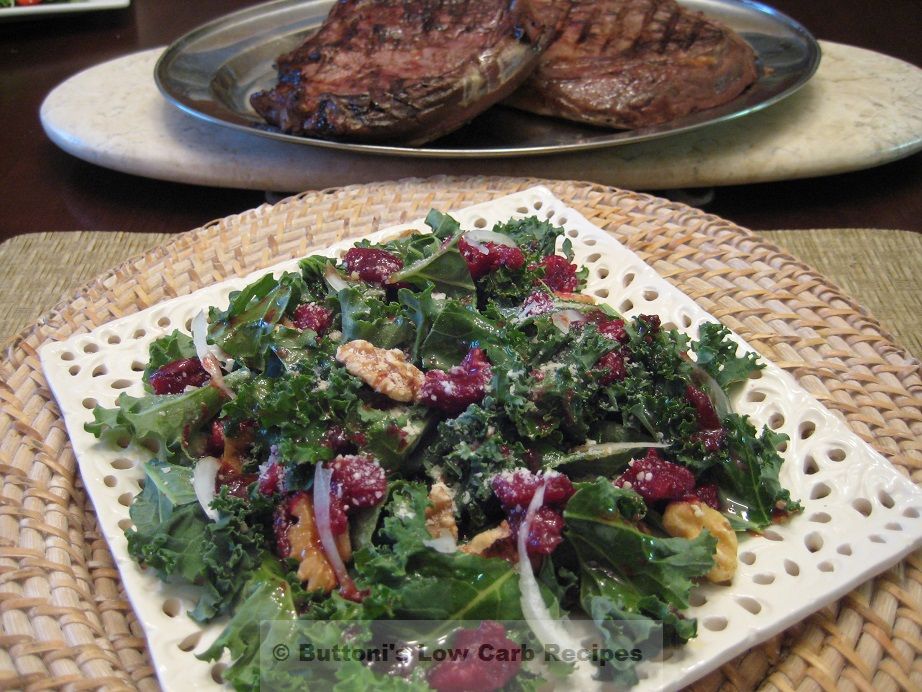 My husband and I were so fond of the Kale-Orange-Walnut Salad I made last Fall, I decided to give it a go with dried cranberries to have with our grilled rib-eye steaks tonight. WOW! It was amazing! The combination of sweetened cranberries, tangy onion and earthy walnuts is just amazing with kale!
This salad is not acceptable until you reach the berries level of the Atkins carb re-introduction ladder.
SALAD GREENS:
1½ oz. kale leaves, stems removed, julienned or broken apart coarsely
1 oz oz. raw onion, sliced thinly
½ oz. walnuts, coarsely broken apart (about 7 halves)
Sprinkle of grated Parmesan cheese (optional)
CRANBERRY VINAIGRETTE:
1 oz. sugar-free dried cranberries (I dry mine in my dehydrator)
2 T. walnut oil or flax oil
2 tsp. balsamic vinegar
Dash salt
½ packet stevia (optional, if cranberries are particularly tart)
DIRECTIONS
: Mix the salad dressing ingredients (all but the berries) in a small bowl. Add the dried cranberries and allow them to macerate in the dressing while you prepare the rest of the salad.
Remove the tough stems from the kale. Wash and dry the leaves. In a medium bowl (or directly on the serving plates) tear apart the kale (or cut up smaller if you prefer).
Atop the bed of kale, thinly slice the onion, add the walnuts and pieces of macerated cranberries. Toss lightly. Plate the greens onto two plates and refrigerate until ready to serve.
With the back of a spoon, mash completely 3-4 of the softened cranberries. Stir and set aside for dressing flavors to further develop.
Right before serving, spoon the vinaigrette over the greens being sure the cranberries are evenly distributed over the two servings of greens. Sprinkle with a wee bit of Parmesan if using (it really does add a bit of flavor).
NUTRITIONAL INFO:
Makes 2 servings, each contains:
192 calories
18.35 g fat
6.8 g carbs, 1.7 g fiber, 5.1 g NET CARBS
2 g protein
90 mg sodium
150 mg potassium
23% RDA Vitamin A, 7% B6, 35% C, 7% E, 20% copper, 8% iron, 23% manganese, 6% phosphorous