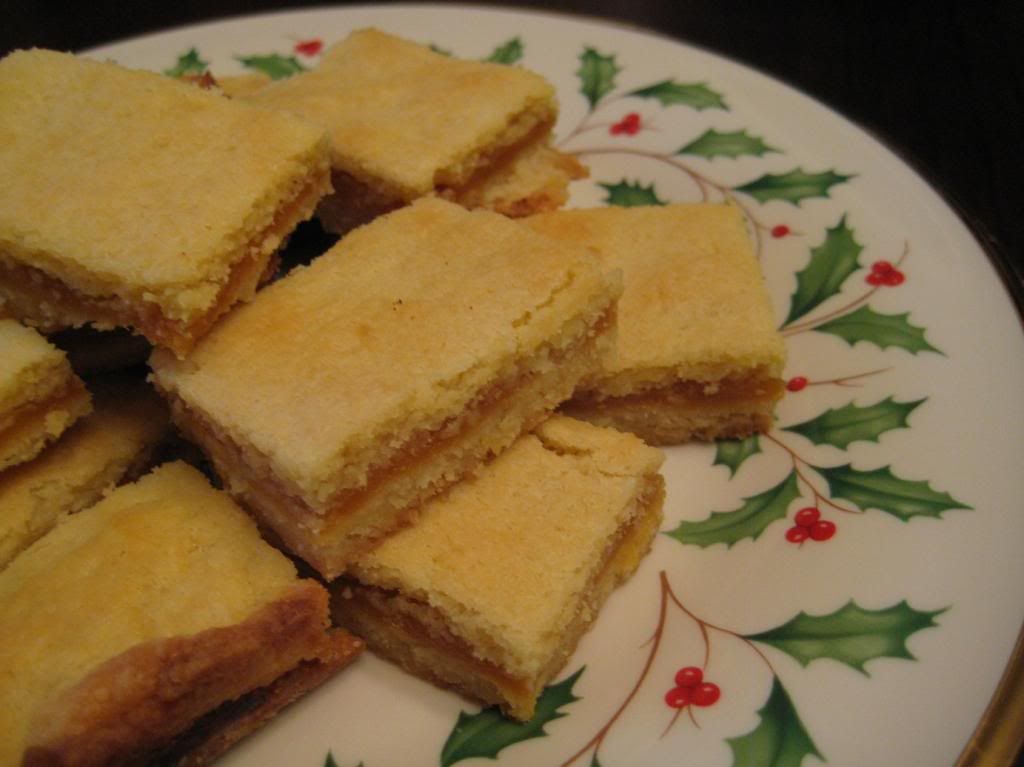 These will make a delightful addition to your Christmas cookie tray!
These buttery, not-too-sweet apricot cookies I made for some company my husband is having tomorrow. They came out much better than I thought they might when I originally got this idea. I simply used my low-carb shortbread recipe I came up with last year and baked a little for a bottom crust, smeared some stewed up dried apricots on top and added more shortbread dough to the top for a sandwich cookie. They're not terribly sweet, but they sure are rich and buttery! These are not suitable until you reach the Atkins nuts and seeds level of the OWL carb ladder. These are NOT suitable for the Paleo-Primal WOE. I think these would also be very good made with a dried prune, dried blueberry or dried cherry filling and plan on trying those one day as well.
INGREDIENTS:
2½ sticks unsalted butter, softened
½ c. granular erythritol
4 pkts. stevia
3 c. almond flour
1 T. coconut flour
1/3 c. oat fiber (do NOT substitute oat flour. It is NOT the same thing)
3 beaten eggs
¼ tsp. salt1 tsp. vanilla
5.6 oz. dried apricots (no sugar added variety)
½ c. tap water (to cook the apricots)
1 tsp. glucomannan powder (to thicken the apricots)
¼ tsp. almond extract
DIRECTIONS:
Place apricots in small saucepan with the ½ c. water. Bring to a boil and lower heat and simmer, stirring often, mashing with a wooden spoon. Cook until they are tender and most of the water has been absorbed. Add a little more water if it all cooks out before the fruit is tender. Remove and stir in the glucomannan powder and almond extract. Allow to set and thicken up as you make the cookie dough.
Preheat oven to 350º. Soften butter in a large mixing bowl. With a whisk or electric mixer, beat in the eggs until fairly smooth. Add vanilla, salt, erythritol, stevia and mix until well blended. Add almond flour, coconut flour and oat fiber and stir with a spoon or fork until well mixed. Using plastic gloves or "baggie" gloves, dip up 1/2 of the dough into a 9×13 non-stick baking sheet or pan. Chil the remaining dough while you are working so you can roll it. Press out the first half of the dough onto the 9×13 pan as evenly as possible. Pop into preheated 350º oven and bake for 15-20 minutes until it is touchable in the center, but not fully browned/cooked. Remove and let cool a few minutes. Using the back of a wooden spoon or rubber spatula, evenly spread the thickened apricot mixture gently and carefully over the bottom crust trying not to tear it up as you work. Remove the chilled dough from the refrigerator. Place a sheet of plastic wrap on the counter and put the chilled dough on it. Place a second sheet of plastic on top of the dough and roll it to the approximate size of your pan. Remove the top plastic. Taking it with your hands at the mid-point, plastic and all, lift it, allowing it to fold in the air and place it over the right half ov the bottom of your creation. Lift the other half on over the left side of the pan. As sthis dough isn't terribly rollable, you may have to trim the edges off and place them in spots there is little top crust, or use the excess to patch any tears/breaks in the top crust. Pop the pan into your preheated oven and bake another 15-20 minutes or until the top is fully touchable at the center and the edges are browned. Allow to air dry in the pan until totally cool. The WILL firm up the longer they are exposed to the air, so don't be concerned they seem too soft when you take them out of the oven. Cut into 28 "sandwich cookies", cutting evenly 4 x 7.
NUTRITIONAL INFO:
Makes 28 cookies, each contains:
150 calories
13.13 g fat
7.43 g carbs, 2.88 g fiber, 4.55 NET CARBS
3.51 g protein
34.8 mg sodium
75.1 mg potassium
11.6% RDA Vitamin A, <10% all other macronutrients