Wow! October is over, it seemed like a very long month full of fun. Time is going slower - I try to savor each moment and not think too much about the past or the future, doing this can cause mental proliferation and rob time from the present, the only time you can do anything about anything.
"Wow! where did the time go?!" = Mental Proliferation
Looking back over the last few days since last post my camera has been fairly in active but the body has not. This is about the only shot worthy of a post to share as it's a really good fartatta or whatever it's called, blacked pork butt and jalapeno - like button!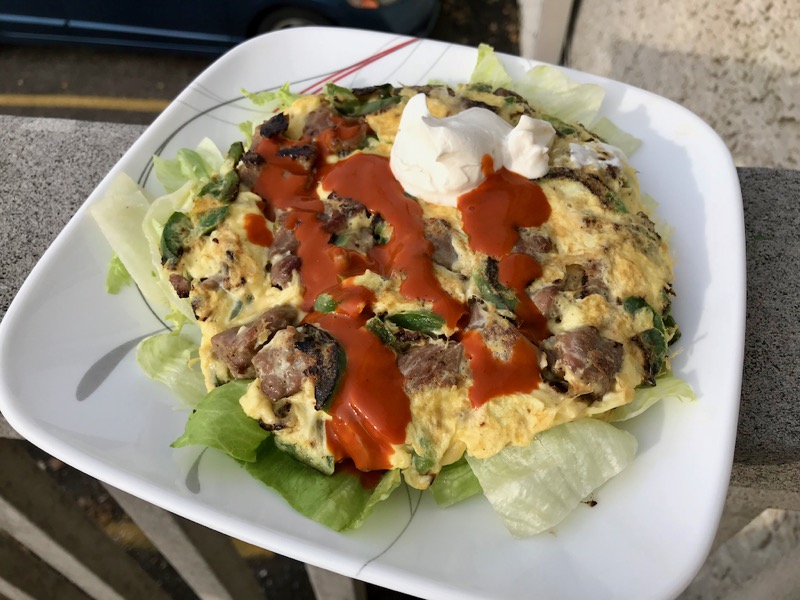 Here's a recap of the month of October Weight, Ketones and Activity.
"Don't just enjoy this moment, enjoy the HELL out of it"! - paraphrase of a Church of the Subgenious quote.
tATA tILL nEXT tiME!
(Added to
http://downhaul.com/lowcarb/daily.txt
- the full disclosure public data journey continues)
October 2018
KX=Ketonix, NC=Net Carb, LBS=English Pounds, Act=(Type-Intensity[1-10])
Date - Kx - Nc - Lbs - Act
1001 - 61 - 27 - 207 - Low
1002 - 46 - 15 - 209 - Low
1003 - 72 - 16 - 204 - KiteFoil-5
1004 - 61 - 14 - 204 - Low
1005 - 70 - 12 - 205 - Low
1006 - 40 - 26 - 204 - Kiting-2
1007 - 39 - 23 - 205 - KiteSkateboard-5
1008 - 59 - 34 - 207 - None
1009 - 57 - 24 - 208 - Low
1010 - 60 - 24 - 209 - Low
1011 - 59 - 23 - 207 - WindFoil-7
1012 - 62 - 29 - 206 - Low
1013 - 52 - 27 - 207 - KiteFoil-5
1014 - 55 - 23 - 210 - KiteSkateboard-4
1015 - 64 - 20 - 211 - None
1016 - 48 - 19 - 207 - KiteFoil-7
1017 - 43 - 19 - 208 - KiteFoil-5
1018 - 49 - 13 - 205 - KiteFoil-8
1019 - 60 - 15 - 205 - KiteFoil-9
1020 - 65 - 17 - 208 - KiteFoil-5
1021 - 59 - 34 - 206 - KiteFoil-6
1022 - 51 - 32 - 206 - KiteFoil- 8
1023 - 58 - 27 - 207 - Med
1024 - 67 - 26 - 207 - Med
1025 - 69 - 24 - 206 - Med
1026 - 69 - 26 - 207 - Low
1027 - 58 - 25 - 205 - KiteSkate-3
1028 - 46 - 24 - 207 - WindFoil-6
1029 - 51 - 24 - 208 - KiteSkate-3
1030 - 50 - 20 - 206 - KiteFoil-6
1031 - 49 - 34 - 208 - KiteFoil-5