September is a warp. What a great month for activites and chances to "work out" out side having fun. Oct is a tricky month so I'll be looking for alternatives before the ice and snow season kicks in full time next month. Opportunicy to get on the water this Wed with temp maybe hitting 80 F and water still tolerable. I'll take some pics of that happens.
Local Kite Spot that I visited for the first time this year in September...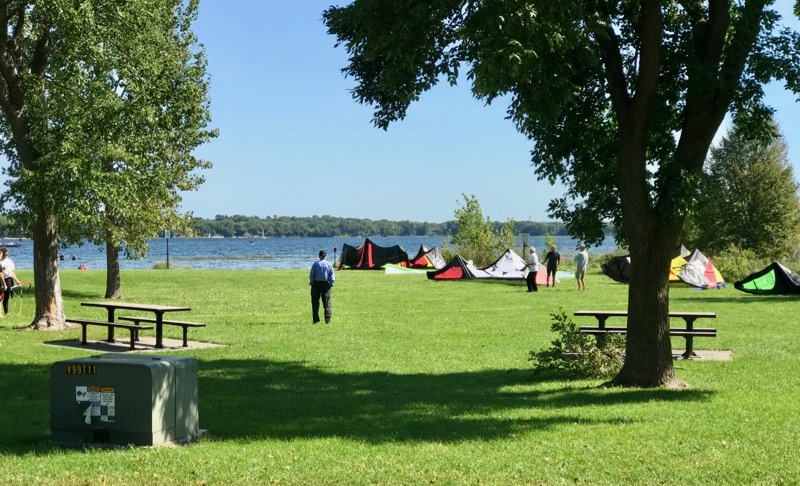 And for the record September stats. Continuing log here. And it just dawned on my yesterday in the shower that yesterday was my 3 year anniversary since I've made an effort to avoid eating Grains, Potatoes and Sugar. For me; it works.
http://downhaul.com/lowcarb/daily.txt
September 2018
KX=Ketonix, NC=Net Carb, LBS=English Pounds, Act=(Type-Intensity[1-10])
Date - Kx - Nc - Lbs - Act
0901 - 55 - 21 - XXX - PaddleFish-7
0902 - 63 - 36 - XXX - PaddleFish,Fish-2
0903 - 62 - 24 - XXX - PaddleFish,Windsurf-8
0904 - 71 - 24 - XXX - Low
0905 - 47 - 27 - 206 - KiteFoil-7
0906 - 50 - 22 - 206 - Low
0907 - 43 - 25 - 206 - Low
0908 - 36 - 42 - 207 - KiteFoil-8
0909 - XX - 33 - XXX - KiteFoil-8
0910 - 57 - 38 - 207 - Low
0911 - 48 - 32 - 209 - KiteFoil-8
0912 - 60 - 66 - 210 - KiteFoil-7 (56% Cacao - redo NC last 4 days up 12)
0913 - 51 - 22 - 209 - KiteFoil-7
0914 - 61 - 18 - 208 - PaddleBoard-2
0915 - 68 - 32 - 204 - Windfoil-7 (hand injury)
0916 - 61 - 42 - 209 - None
0917 - 49 - 25 - 211 - Low
0918 - 73 - 26 - 208 - Med
0919 - 64 - 23 - 208 - Low
0920 - 55 - 22 - 207 - Low
0921 - 66 - 25 - 206 - KiteFoil-8
0922 - 52 - 25 - 208 - KiteFoil-7
0923 - 56 - 26 - 207 - KiteFoil-6
0924 - 62 - 21 - 210 - KiteFoil-8
0925 - 50 - 13 - 208 - Low
0926 - 44 - 13 - 204 - KiteFoil-6
0927 - 60 - 16 - 203 - KiteFoil-6
0928 - 58 - 22 - 201 - KiteFoil-5
0929 - 68 - 30 - 204 - None
0930 - 52 - 34 - 205 - Low