| | |
| --- | --- |
| TaDa! | Fri, Jan-20-23 06:48 |
---
Common Vegan and Vegetarian Substitutions for LC

I saw this and thought it was something useful for other Vegx folk - how we substitute for the higher carb regular natural vegetarian/vegan foods. We can add others here, but this is a good start. Still worth looking up carb counts on these, so for example cashew is carbier than other nuts, but still useful due to the way we use it in Veg sauces, cheeses, etc: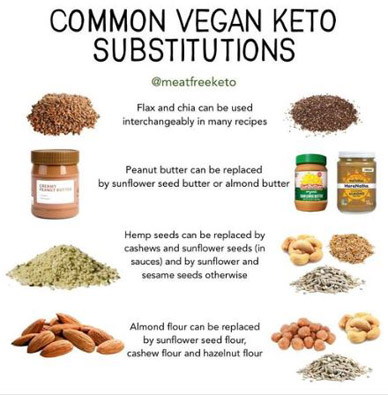 | | |
| --- | --- |
| TaDa! | Sat, Jan-21-23 11:48 |
---
For beans and bean dishes like falafel and hummus, look for recipes using:

Black Soybeans
Lupini Beans
All times are GMT -6. The time now is

05:22

.
Copyright © 2000-2023 Active Low-Carber Forums @ forum.lowcarber.org
Powered by: vBulletin, Copyright ©2000 - 2023, Jelsoft Enterprises Ltd.