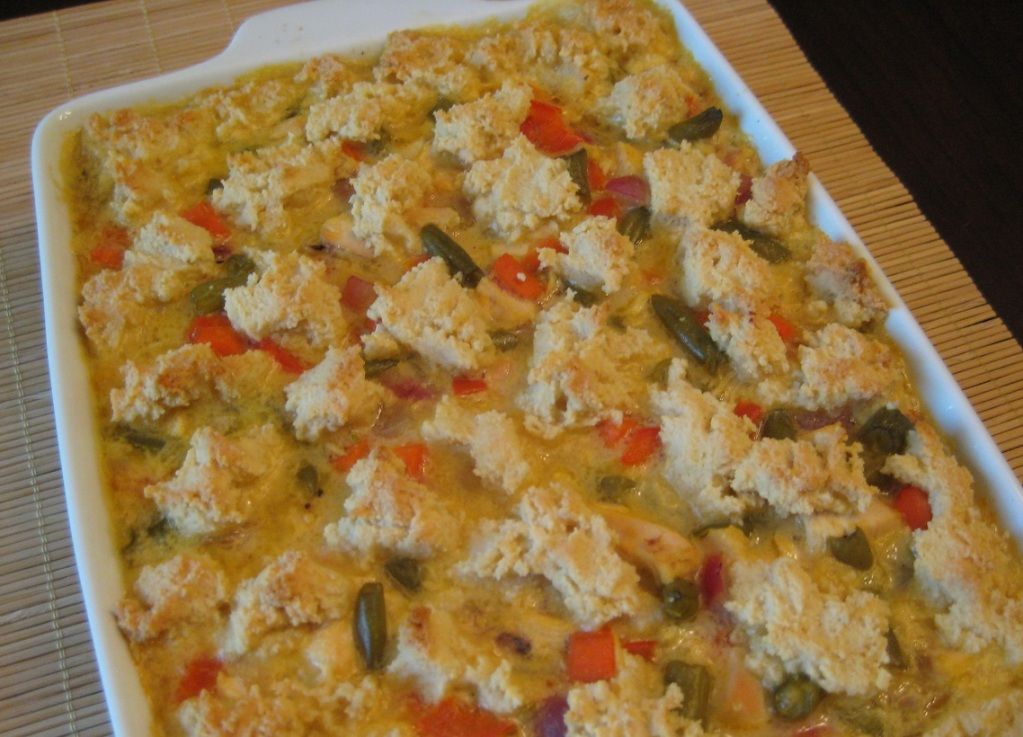 I was wanting to use some leftover baked chicken breast meat for dinner tonight and my husband voted for chicken pot pie. I have a pot pie recipe on my site already that is Atkins suitable, but it has Carbquick in it and therefore I can no longer eat that one. I told hubby "I don't think I can do that and stay true to my new Paleo way of eating." Then I thought about it a few minutes and realized I just might be able to pull it off so that it would be tasty and at the same time, satisfy his desire for one of his comfort foods. AND I DID! MIKEY LIKED IT!!!! Wasn't that hard really. This dish is suitable for anyone who is at the nuts and seeds rung of the Atkins OWL ladder or who follows a Paleo-Primal program. The nutritional stats below are very impressive, making it a most nutritious dinner! This would also be good made with turkey or rabbit.
FILLING INGREDIENTS:
2 c. homemade chicken stock
1 1/3 c. carrot, diced
1 1/3 c. red radishes, diced
½ c. red bell pepper, diced
1½ c. green beans, cooked and chopped a bit
½ tsp. red palm oil (for yellow color)
2 c. chicken breast, cooked, diced
½ tsp. glucomannan (Konjac) powder (or your favorite thickener)
Dash black pepper
3 T. coconut cream
3 T. homemade mayo
Dash olive oil to grease baking dish
TOPPING INGREDIENTS
:
1 c. almond flour
2 T. butter
1 whole egg
1 T. coconut cream or coconut milk
DIRECTIONS: Pour chicken stock into 4 qt. saucepan. Add diced carrot and radish. Bring to boil and simmer until almost tender. Add bell pepper and cook until it is just softened a bit. Turn off fire and add chopped green beans. Dust the glucomannan powder (or whatever thickener you prefer) evenly over the broth and stir quickly to disperse into the sauce. Sauce should begin to thicken right up. Add black pepper and stir to blend all ingredients. Preheat oven to 350º. Grease an 8×11 baking dish with a bit of olive oil and pour chicken filling into the dish. Set aside while you make the topping.
In a small bowl, measure the almond flour. With a fork, beat in the soft butter, then the egg and finally the coconut cream or coconut milk. It will form a medium thick dough. With the fork and a spoon, drop small dots of the dough evenly all over the top of the chicken filling. Pop into the preheated 350º oven for about 40 minutes or until bubbly and slightly browned on top. This is nice served with a green salad. ENJOY!
NUTRITIONAL INFO:
Makes 5 nice 1¼ cup servings, each containing:
426 calories
33 g fat
12.5 g carbs, 5.56 g fiber, 6.94 g NET CARBS
24.3 g protein
436 mg sodium (less if there is no salt in your broth)
475 mg potassium
58% Vitamin A, 33% B6, 31% B12, 45% C, 15% E, 16% copper, 37% iron, 11% magnesium, 13% manganese, 48% niacin, 34% phosphorous, 30% riboflavin, 48% selenium, 17% zinc
This came out VERY good
and I will most definitely be making it again! Hope you folks like it!